The Fall Play: A Success Story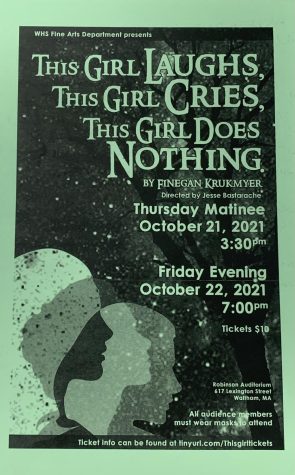 Attention: the arts have returned to Waltham High! The Fall Play took place on Thursday, October 21st at 3:30 pm and on Friday, October 22 at 7:00 pm in the WHS auditorium. All performers and audience members were required to wear masks and the audience was socially distanced. After the madness of last school year, it was a refreshing return to normalcy for this reporter to be able to attend the performance.
This Girl Laughs, This Girl Cries, This Girl Does Nothing was a fascinating story, masterfully portrayed by the WHS students involved. The story follows three triplets, Albienne (Eliza Zangerl), Beatrix (Ella Amarante), and Carmen (Natalie Fadlon) on their individual journeys to discover who they truly are, but in the end, they find their way back to each other. The girls go on wild adventures involving battles, lighthouses, animals, and most importantly, cake. It is a heartwarming and thought-provoking story, which employs the use of narrators who break the fourth wall and speak directly to the audience. Each girl has an individual narrator portrayed by Amanda Snaden (Beatrix's narrator), Paige Hazel (Albienne's narrator), and Kennedy Walsh (Carmen's narrator). It was a magical journey in which the audience too laughed, cried, and did nothing. 
Evan Cunningham, Narrator 1, said, "I loved the ensemble group work even though I wasn't part of the ensemble. I feel like they were my favorite part of the show[.] They knew how to make people laugh and did [well] with their lines. I also loved the deeper meaning in every word anyone said, so it still seems like a kid's show but adults still come out of the show moved."
This show was the first "normal" in-person production that the school has been able to do since the beginning of the pandemic, so Covid-19 protocols heavily affected the rehearsals and performances. Rosie Piantedosi, who played one of the summer camp attendees said, "Covid protocols [affected] the rehearsals and performances [because we needed] to wear [a] mask and not [rely] on facial expression to convey emotion, [and] also [needed] to rely on our body movement and spatial awareness." 
Evan Cunningham, who has been participating in theatre since middle school, agreed that participating in this show was a very different experience from the shows he's done in the past due to the pandemic. He said, "…this show was quite different[.] The rehearsal time went by way faster because we had to wait for the a-ok to even have a show, and usually, Jesse will have the play in a black box setting where the audience will usually sit literally on the stage but because of covid we couldn't have this experience." 
When asked why he chose to participate in the school play Evan said, "…it is an extremely fun opportunity to be part of a community and the feel of being on the stage feels beautiful and [even though] I have been doing theater since the 6th grade… I still get the feeling every time." And he did not regret his decision, because when asked if he enjoyed his experience he exclaimed, "Yes, yes, a thousand times yes. The community is what makes me excited to go to not only rehearsal but school every day. I love the feeling of this show with so much deeper meaning and so it felt really good to dig deeper into this show and find a way to portray it." 
And for all of those who haven't yet participated in WHS theatre, but would like to in the future, Rosie describes the audition process saying, "…you go to the dance studio and fill out a form that says what your conflicts are, then you get a sheet with dialog and you get into a group of like 6 people and read the sheet. … Ms. B will usually [ask] for you to read again in a smaller group [that] could range from 2-3 people, and you'll read some more of the play. She picks what scenes we audition with." 
Overall, the Fall Play was a huge success despite the pandemic and an enjoyable experience for all those involved. Hopefully, more students will decide to participate in or attend the upcoming productions such as Senior Revue on November 18 – 19, Dance Theatre which will hold auditions in December, and the Spring Musical which will hold auditions around the end of February.