10 Summer Activities To Keep You Busy in the Boston Area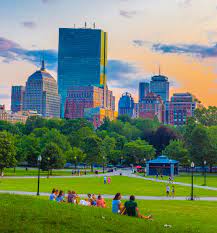 Summer is around the corner and with that comes warm weather! This is your chance to take a break, get outside, and explore some of the exciting and easy activities nearby. Don't forget how close we are to the spectacular city of Boston, read bellow for 10 easy ideas to keep you busy this summer!
1. Newbury St. 
Newbury Street located in the Back Bay area of Boston and is about 30 minutes away from Waltham. Newbury Street is filled with shopping, dining, and entertainment for everyone. Some shops that might intrigue you include Nike, Newbury Comics, Urban Outfitters, Forever 21, and so much more. As well as shopping there are many great restaurants and cafes along the street in case you get hungry or want to sit, visit with friends, and people watch. This is the perfect summer activity for a sunny warm day here in Boston. 
2. Harvard Square
Harvard Square is located at the intersection of Mass Ave., Brattle St., and John F Kennedy St. near the center of Cambridge. The Square is only about a 20 minute drive from Waltham. Harvard Square is definitely more of a place to eat and explore rather than shop. Some fantastic food spots you should definitely check out include El Jefe's Taqueria, Ben & Jerry's, Felipe's Taqueria, Insomnia Cookies, and JP Licks. If you are more into historical activities, you should definitely go to some of the Harvard museums or even take a tour.
3. Red Sox Games   
Fenway Park, home to the Boston Red Sox, is located in downtown Boston near Kenmore Square. Its about a 30 minute drive from Waltham. No matter where your seat in the stadium is you will most certainly always get the Boston sports fan experience. For a single game ticket you can buy a ticket for as little as fourteen dollars! This would be a very fun evening outing with all of your friends, it can be low cost, fun, and entertaining!
4. Beach
Although you may not think so, some of the beaches here in Massachusetts are beautiful. Plus who doesn't like a beach day?! You can tan, swim, and hangout with little to no cost whatsoever. Some of the fan favorite beaches here in Massachusetts include:
Good Harbor Beach- About a 50 minute drive from Waltham

Crane Beach- About an hour drive from Waltham

Nantasket Beach- About an hour drive from Waltham

Wingaersheek Beach-About 50 minute drive from Waltham
No matter which beach you choose your going to have a guaranteed fun time!
5. Aquarium 
The New England Aquarium is located in downtown Boston on the Wharf. Its about a 30 minute drive from Waltham. Attractions at the aquarium include the Simons Theater, the Giant Ocean Tank, Harbor Seals Exhibit, Indo-Pacific coral reef, and much more. Tickets for the aquarium are $34 and the tickets for the theater are $10.
6. Picnic
You can enjoy a picnic with friends and family just about anywhere!! Going on a picnic can be a fun, easy, and a last minute thing to do. Here are some easy-to-transport foods that you can bring along…
Chips variety

Oreo cookies 

Fruits  

Soda/juice boxes

Cheese and crackers

Sandwiches 

Bread

Salad

Dips (Hummus, Ranch…etc) 

Vegetables
7. Bike Ride 
So many good things come out of bike riding, including: exercise, transportation, amusement, and social time. You can bike with your friends and family to pretty much anywhere as long as your legs can handle it! A popular bike path that is also loaded with history located just 4.2 miles outside of Waltham is the Minuteman Commuter Bikeway!
8. Paddle Boston kayaking and canoeing
Take a boat out on the Charles River this summer for an activity that can be as long or as short as you'd like. Two nearby locations are in both Newton and Waltham. The Newton location can be found at 2401 Commonwealth Ave, Auburndale, MA, while the Waltham location can be found at 195 Moody St, Waltham, MA. Boating can be done individually or with a partner and it provides a nice activity on a hot summer day! Renters will need to wear a lifejacket and fill out paper work at the site.
9. George's Island
If you are looking for something historic with a view, George's Island is an island located off of Boston Harbor that is accessible via a short, scenic ferry ride. The historic Fort Warren built in 1833 to defend Boston is located on George's Island. You can explore the island on your own or with a tour guide. There are many old legends and ghost stories about the island including the famous "Lady in Black".
10. Castle Island
Castle Island is located just 11 miles from Waltham and has activities for everyone! Castle Island is a historic site that is handicap-accessible, dog-friendly, and suitable for any age. On Castle Island you can walk, run, bike, fish, swim, and get something to eat at Sullivan's (the restaurant located on Castle Island). You can make your time there as lengthy or as short as you'd like.