Summertime: Can you feel it coming?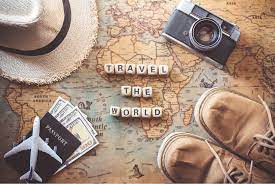 Summer is approaching sooner than you think! School ends in a few weeks, and we all deserve a break from the constant chaos of our daily lives. I personally have been dreaming of going on a nice vacation with my family. There's a list of places I would like to visit, and just in case you've also been wondering where you should go during summer break, here are a few places to consider:
Catalina Island, California:
If you would prefer to go somewhere within US borders this year, instead of traveling abroad, then Catalina Island could be perfect for you. This island is so unique it has been mistaken for a place in Italy. The crystal clear waters surrounded by mountain peaks makes this place worthy of tourist visits. Beyond the sight-endearing beaches, Catalina Island has many other activities such as zip lining, bison expeditions, undersea sub expeditions, etc. You can also go on a tour of the beautiful city of Avalon which stands right along the mountain range.
https://www.visitcatalinaisland.com/
Santorini, Greece:
Maybe you don't want to stay in the US. If you've been hoping to travel abroad, maybe to a country you've never been to before, consider Greece. Greece not only has remarkable historical places to visit but also a beautiful landscape to enjoy. Similarly to the previous Island, Santorini has impressive beaches that surround one of Greece's few active volcanoes. It's quite an intriguing environment. There aren't many beaches where you can easily find volcanic pebbles on the sand! If you're a fan of seafood, you won't want to miss out on the traditional Greek dishes found on this island. Lastly, one of the many historical places you might consider visiting while there is ancient Thera, where you'll find remnants of an ancient town people settled in.
 https://www.visitgreece.gr/islands/cyclades/santorini/
Kyoto, Japan:
If you're searching to get some real distance from home, maybe traveling to the other side of the world is the right fit for you. Kyoto contains such unique features that almost make it look like a mystical environment. From the cluster of cherry blossoms to the long rows of bamboo grooves, it makes you feel transported to a magical forest where nature surrounds you everywhere. Some other fascinating attractions include the disguised architecture, depicting Japanese temples, shrines, and other buildings with distinguished roofs and colors. 
https://www.japan.travel/en/destinations/kansai/kyoto/
Cairo, Egypt:
Cairo is another great option. The Middle East is a very intriguing place, filled with centuries old monuments and the history of some of the world's first civilizations. If you choose to visit Cairo, there's a variety of monuments, temples, and museums to visit but it's impossible to miss out the Pyramids of Giza and the Great Sphinx. Beyond the architecture, Cairo is one of the feel places you'll find Palm Trees among sand. Although being in the middle of the desert, there's a contrast between the sand and grass due the impact that the Nile River has on the land. Some fun activities to do there are going to the beach, getting a taste of Egyptian cuisine, and riding camels!
https://theculturetrip.com/africa/egypt/articles/13-reasons-why-you-should-visit-egypt-at-least-once/
If any of these places speaks to you, then consider planning to spend a week, or maybe even longer away enjoying the excitement of visiting somewhere new, a place where you can have a remarkable experience. Imagine yourself enjoying a sunny breeze with your feet in the sand, or eating something you've never tasted before, learning about a new culture, taking pictures against a gorgeous background. Traveling is a chance to step into a new world, to broaden your horizons and gain knowledge about the world around you. So even if you'd prefer to go somewhere else, maybe somewhere close to home, I highly recommend going somewhere new this summer. Seize the moment and enjoy your summer to the fullest!