Homecoming Dance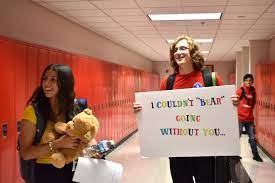 Before Homecoming many students were unsure whether or not they would attend the dance. As freshmen at Waltham High School we were interested in seeing if Homecoming was a popular thing to attend and whether or not people were interested in going. Students were eager to share their enthusiasm for the tradition of Homecoming, a tradition that disappeared during the long dark days of Covid restrictions. Five Waltham High students shared their thoughts on the return of Homecoming:
1: Did you ask anyone out for homecoming?
2: Are you concerned about homecoming and if so why?
3: How well do you think homecoming is going to go?
4: Can you dance? If you can dance, show us.
5: What are some ways you might ask someone to dance?
Eddie Quinn, freshman:
Not too nervous don't care.
I think it's gonna go decent.
"I heard girls like Chipotle, so I might do something like that."
Emily López, senior:
I don't think I'm nervous. I think it's a great opportunity.
I don't know how well it's gonna go because I know lately how things have been going around school and how people around school haven't been acting responsibly.
I can dance but I can't bust a move right now.
I think the classic with the poster. I'm a big fan of grand gestures .
Winston Lin, freshman:
I think it's going to go bad.
Jack MacMillian, freshman:
I'm nervous because I've never been before .
No, I really can't dance.
Hanz Louis, freshman:
No, I didn't ask anyone out.
Yes I am going to Homecoming. (Hanz DID NOT ATTEND THE HOMECOMING)
Not well at all. There will probably be a lot of problems.
Yes I can dance. Then he proceeded to break it down.
I will most definitely ask someone out in the most extravagant manner.
Homecoming came and went and many students attended and had lots of fun. We got to learn what people thought of Homecoming weeks before it started. And learning about people brings us closer to our community. Even though we couldn't get an interview with a teacher or a House Office, we still learned a lot about people's mindsets on Homecoming. Thank you for reading or listening to our article. This means a lot.