Senior to Freshman Waltham High School Football Differences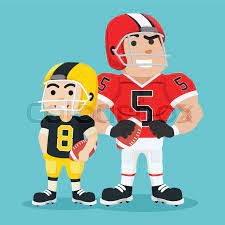 As a member of the Waltham football team and a freshman, the topic of the freshman experience compared to the senior experience is very interesting. When asked, "Do you feel that the seniors treat you differently?" Raffi Sarkissian WHS freshman and member of the football team said, "No they are very supportive and help me with everything." And when asked about making the move to varsity in a few years, he said. "I'm excited you know about big games like senior night."
Isaiah "Izzy" Louissaint who is a senior lineman thought about whether as a senior he feels more pressure because it's his last year. "No because you feel more confident and that you just run the show." As for whether the freshmen pull their weight on the team, Louissaint smiled and said, "Yes, they are doing great this year."
Freshman Dominic Bradley Treff considered if seniors treated him differently during his first year on the team. "Nah, they're really supportive and they don't treat us differently." NAME is having a positive experience on the team and sees himself building with the team in the future. "Yeah I feel a good amount of pressure to prove myself as a freshman because if I go up to varsity in two years I want to show them I'm good… I'm really excited for big games like Hoco game."
WHS starting quarterback Jack Renaud reflected on his last year and as the Hawk QB. Does he feel any extra pressure to perform? "Yeah I definitely do, you just said it, it's my last year, obviously I want to go out with a bang. I don't want to leave high school and be like I could have done this, I could have done that, and being the quarterback is more pressure." Renaud sees the future in the influx of freshman players this year.
"
"The freshman are good this year… They are definitely more mature than I thought they would be. There are a few guys that have impressed me.""
— WHS Senior Jack Renaud
After interviewing seniors and freshman the experience are different, but not too different. Both freshman and seniors want to prove themselves. It will be interesting to watch the future of Waltham football.