Food Within the Jewish Culture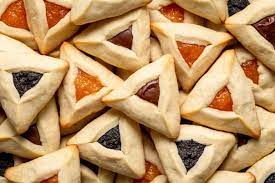 Being Jewish American at Waltham High School can be a very unique experience according to Jewish Student Union president and founder, Lexie Smith. An aspect that is especially unique about her Jewish culture is the food 
A specific food that ties Lexie to her culture is matzo ball soup. Lexie describes matzo ball soup as your average soup chicken broth base with spongy dumpling-like balls of matzo in it.She explained that her family usually eats this soup during Passover because it's made using matzah, which is a traditional type of bread eaten during Passover. Matzah is eaten during Passover because it is the only type of bread where the dough doesn't rise prior to when it is baked. This symbolizes how the Isrealites did not have enough time for their bread to rise when fleeing Egypt. This history behind a soup that is still eaten after thousands of years is how Llexie is able to connect with her ancestors. 
Not only is Lexie able to connect with her ancestors from centuries ago, but she's also able to connect with older generations of her immediate family through the process of making this soup. She explains that learning the traditions of her culture from her mother and aunt have been one of the best experiences for her and she's very excited to some day teach her own children how to make matzo ball soup. Lexie also believes that food is the greatest connector in tying people of any culture to their culture.
The Jewish Student Union (JSU) at Waltham High School understands the importance of food to Jewish culture with one student leader saying, "I want to make a community where people can come and learn about Judaism and not feel like it's just a religion, because it's not. There's so much more to it." To recognize the other aspects of Jewish culture that aren't just religion, the JSU plans to host a food sale with some Jewish foods, such as, black and white cookies, rugelach, jelly donuts, and hamantaschen. With the money raised from this fundraiser the JSU plans to donate half to refugees from Ukraine. The other half goes into their personal JSU account. This event will take place right after school on June 2, 2022, in the foyer below the gym.
JSU president Lexie Smith is very hopeful for the outcome of this event, and also for the future of JSU. The mission statement of the JSU is to bring together people of the Jewish religion and anyone who wants to learn about the culture. The Jewish Student Union is an upcoming affinity group that will benefit our community by encouraging students to learn about different cultures and religions.